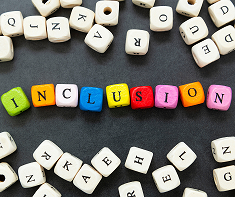 Our consultant Movell takes a behind the scenes look:
As an Equality, Diversity and Inclusion practitioner, the whole topic of inclusive workplaces and creating a sense of belonging is not just important to me but it's fundamental to how I work and who I work with.
I only want to work with organisations that are truly invested in building, progressing, and maintaining ED&I.
I never want to work with those who pay lip service to this important work or those who issue performative statements that are unsupported by meaningful action. This is important work and it's important that we get it right, so I only want to work with those who take it as seriously as I do.
Working with Focal Point has been and continues to be a pleasure because as a team, we practice what we preach.  This is an inclusive company where everyone's voice is heard, a place where everyone is celebrated for who they are and for the talents that they bring to the table. Don't take my word for it….take a look at our behind-the-scenes look at Inclusion at Focal Point and see for yourself. We are not perfect and are always striving to learn and grow… but we want to provide you with an opportunity to see what inclusion looks like from the inside.
During National Inclusion Week (27th September – 3rd October) the team shared how they feel included at Focal Point.
Catherine Hamilton "I am regularly asked for my view/perspective and know that however different this may be, it will be heard and considered. I feel understood by the team and can be honest and open even though it may be an uncomfortable conversation"
Debbie Stanfield "I feel included at Focal Point in many ways but particularly as a valued member of the team. Both Tracy & Stella are superb role models and are very open to suggestions about how we can implement new ideas or improve business efficiencies. As a member of the Support Team, it is great to be included in briefing meetings for new client programmes and work closely with the project team on these"
Heather Brierley Staunton "I feel included at FP because they are as flexible as possible in understanding my childcare arrangements and having to juggle various balls!"
Dani Duric "I feel included at Focal Point because I am asked for my input and ideas in team meetings."
Tracey Wilmott "Everyone looks out for each other and checks in on a personal level; as well as sharing all our fabulous knowledge and experience when we meet as a group or on a one to one."
Jackie Staunton "At Focal Point we hold team regular meetings to exchange ideas, everyone is given the opportunity to contribute. There's a lot of trust and respect amongst the team."
For more information about how we can help you create a truly inclusive culture where your people feel a strong sense of belonging, call us on 01903 732 782, email or contact us.